These types of promises are often made about new, trendy e-commerce marketing tools. But few tools truly deliver.
Web push notifications, however, are delivering everything that they promised.
Introduced to Google Chrome in 2015, web push notifications are browser-based opt-in notifications allowing e-commerce retailers to deliver targeted messaging directly to segmented populations of their customer base.
To find out more about how web push notifications work and how to implement them effectively, we spoke with Felix Süllwold, Head of Partnerships at PushOwl, a push notification Shopify App that makes it easy for merchants to leverage web push notifications to engage subscribers and drive more sales for their stores.
What is a Web Push Notification and How Do They Work?
Everyone is familiar with how push notifications work for mobile apps. Uber sends you a push notification when your driver is ready. Gmail sends you a push notification when you receive a new email. Your daily news app sends you a breaking news notification.
Web push notifications work in a similar way. However, web push notifications are delivered through a user's desktop or mobile browser. Because of this, they offer some interesting advantages over other marketing tools:
Unlike in the case of push notifications from a mobile app, customers do not need to install an app to receive web push notifications.
Unlike an email list, customers do not need to provide their email to receive web push notifications.
Unlike paid social ads, the cost of using web push notifications does not increase as more people click through them.
To receive web push notifications, visitors to your website only need to choose to opt-in to receiving them. Once they do, you have a direct line of communication with your customers.
Part of what makes web push notifications so powerful is their ability to be customized for a variety of different messaging.
As an example, PushOwl offers different use cases including notifications for recovering abandoned cart reminders, discount notifications, flash sales, and a host of others. All of these push notification use cases can be self-tested with the PushOwl playground (no need to install PushOwl).
When you send out a web push notification, the customer receives your notification in the form of a tile composed of both visual and written content. How it appears, obviously, varies based on the browser it is sent to. But here's how it looks on the desktop in general: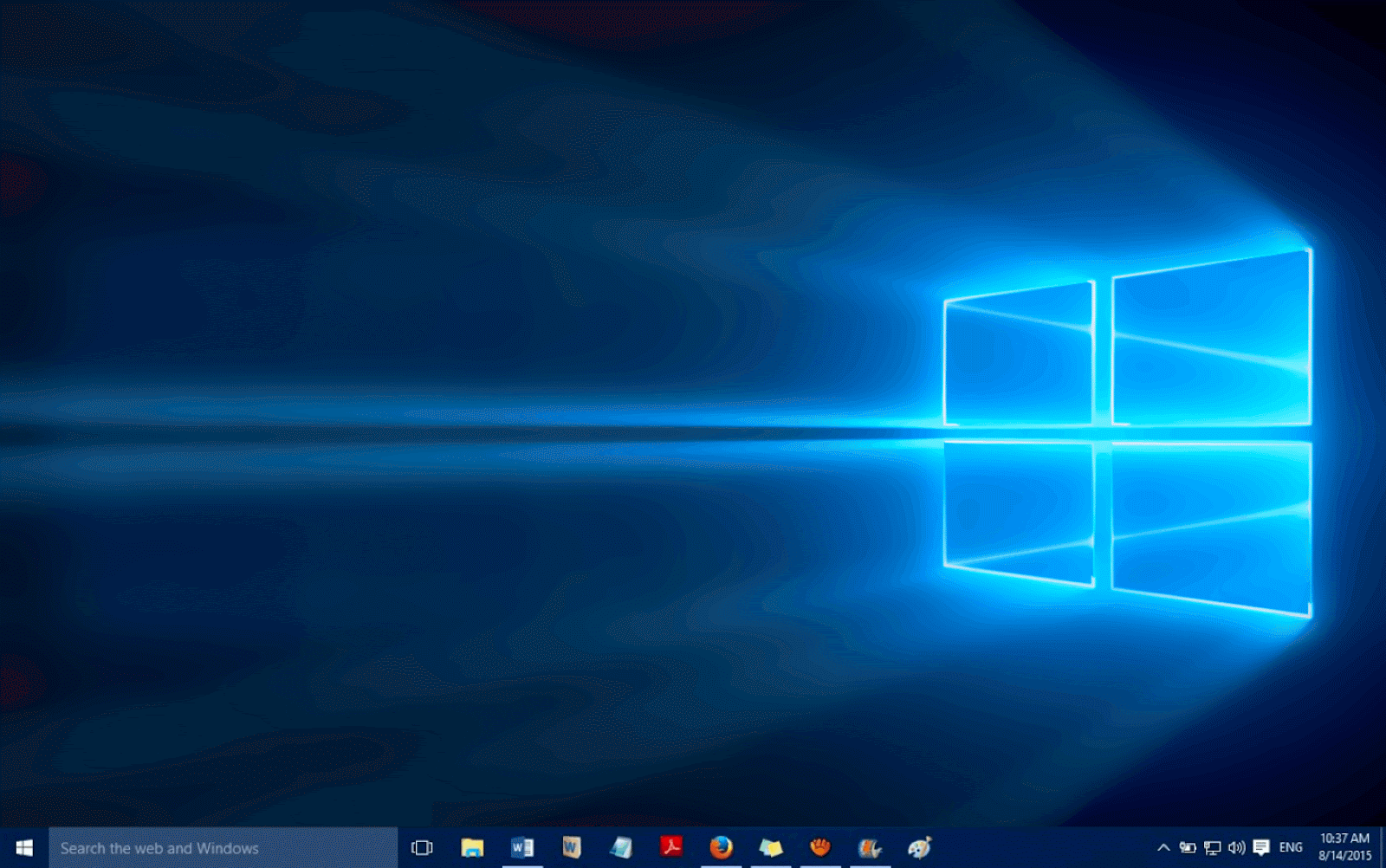 It is important to note: these are not just generic, mass-audience pop-ups. Web push notifications offer powerful audience segmentation that allows marketers and business owners to target specific customers with information that is highly-relevant to them. So you're personalizing your campaigns for context, driving in more conversions.
The Power of Web Push Audience Segmentation
Web push notification's ability to target segments of a customer base ensures that the right customers are receiving the right messaging at the right time. It also prevents against intentional and unintentional spamming that often gives brands a bad name, leading to an increase in consumers unsubscribing.
As Felix Süllwold explains:
"First, these notifications are opt-in so the only people who receive them are those who explicitly agree to receive them. Anti-spamming is built into the technology from the beginning."
And because web push notifications offer powerful segmentation and targeting to get customers the exact information they need, it is beneficial for store owners or marketers to be responsible about how they implement web push notifications for their business.
"We suggest that users be smart about their segmentation. Instead of always sending every notification to everyone, be targeted about who is getting which push notifications and when," explains Süllwold, "PushOwl has default segments, but you can also create your own. A few examples of notifications might be a '60-Day No Purchase' notification or a 'Made A Purchase in the Last 7-Days' notification or an 'Abandoned Cart' notification. Whatever notifications you chose to set up, you should be thinking about your audience and which segments of that audience need which messages."
Web push notifications are also a powerful channel to promote time-sensitive offers. Unlike emails (which are sent and then sit in an email box even long past the time an offer has expired), web push notifications notify the subscriber of the deal instantly. They don't need to open or click through a notification to know of the offer. Web push notification campaigns can also be set to run for a specific timeframe to promote and remind subscribers of the time-sensitive deal.
If you are, say, running a flash sale that ends at midnight, a service like PushOwl allows for you to setup a campaign that ends at midnight. This means that users will never see expired offers.
To make sure customers are getting messages at the right time, PushOwl's "Smart Delivery" feature allows notifications to run based on the user's time zone. If you have customers all over the world, the campaign will end based on the customer's local time when they are most active.
Another powerful use case is abandoned carts. Merchants can setup web push notifications to remind customers of what they've left behind. They can even set up a drip of three web push notifications to recover abandoned carts - one to remind them of the products, second to offer a deal and a third to create a sense of urgency.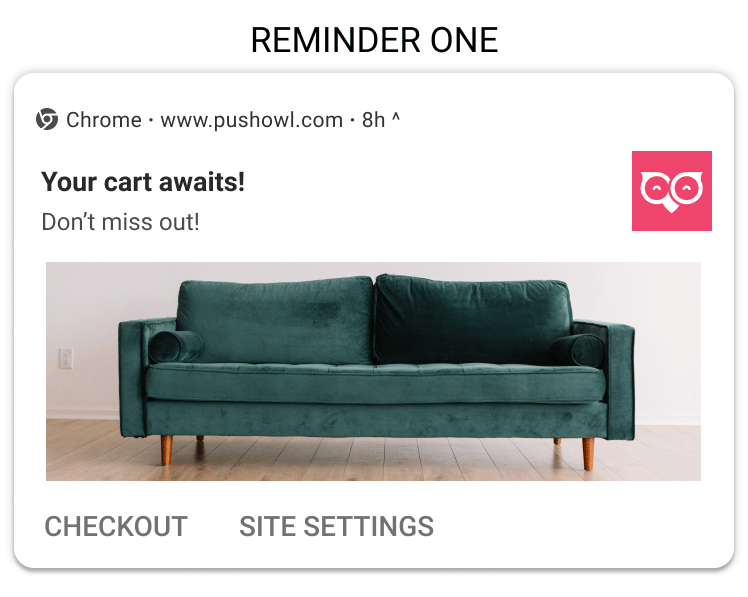 "It is important to note that in e-commerce most shopping carts are abandoned which means that a lot of potential sales are left on the table," explains Süllwold, "some of those carts are abandoned by first-time shoppers who are yet to provide the merchant their email, so they can't be reached with a typical abandoned cart email. Web push notifications don't require an email, so you can send those first time customers a notification to say 'hey, you left this in your cart, here is a coupon to finish your transaction.'"
Visuals in Web Push Notifications
Like most aspects of e-commerce and marketing, the visual aspect of push notifications is critical for their success. In addition to using the correct templates, Süllwold also emphasizes the importance of keeping your creative content aligned with the purpose of the notifications:
"You want to make sure your visuals match the purpose of the notification. An abandoned cart notification would probably be a high-quality product image. For a sales campaign, it would probably be something like a lifestyle photo. Matching the messaging and visuals with the purpose of the notification is critical for the notification to be successful."
Effectiveness and Getting Started with Web Push Notifications
The performance of push notifications is largely up to how well they are implemented and targeted. Generally, those who utilize web push notifications can expect between a 3-5% acceptance rate and an average 4.1% click through rate, helping draw shoppers to your store to explore deals and products, and encouraging more customers to come back to their abandoned carts.
And for Shopify store owners, the process for implementing web push notifications couldn't be easier.
Install PushOwl from the Shopify App Store. This automatically adds PushOwl's code to the Shopify store's backend. From there, Shopify merchants can view the app on the Shopify Admin dashboard and begin setting up the app by following a simple step by step process.
From there, store owners can begin targeting specific segments, creating promotional notifications, setting up their abandoned cart notifications, and exploring the other tools and features offered by PushOwl.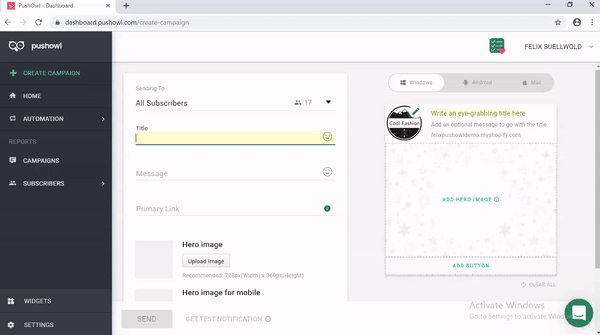 "Web push notifications are another tool for marketing strategies that offer many of the benefits of other channels without some of the downsides," explains Süllwold, "If you are a marketer, they are going to give you another critical contact point with the customer and another user-friendly way to drive additional sales for your business."
Make your push notifications stand out with high-quality product imagery. We are currently offering 10 free images so you can test our service and see firsthand the powerful of fully scalable image-editing.