There's the pithy true answer: get images edited for free!
But the beauty of Pixelz' retouching service is that it can be whatever you need it to be. You can keep image editing dead simple and get backgrounds knocked out lightning fast with minimal fuss, or you can get advanced retouching fully integrated into your workflow.
In short, we've been developing our retouching platform for nearly a decade, and there are a lot of bells and whistles.
So here's our list of the 10 things to try during your free trial. We'll try to stay off the super obvious ones (except a couple essentials that you really must try) and shine a light on features that might otherwise be hidden.
1. Create a Spec via Onboarding
When you created your account, a few default specs were created as examples. Specifications, or "specs," are basically the set of instructions that will be used to edit your images. They can encompass everything from the dimensions and file type of your image to details like shadowing and prop removal.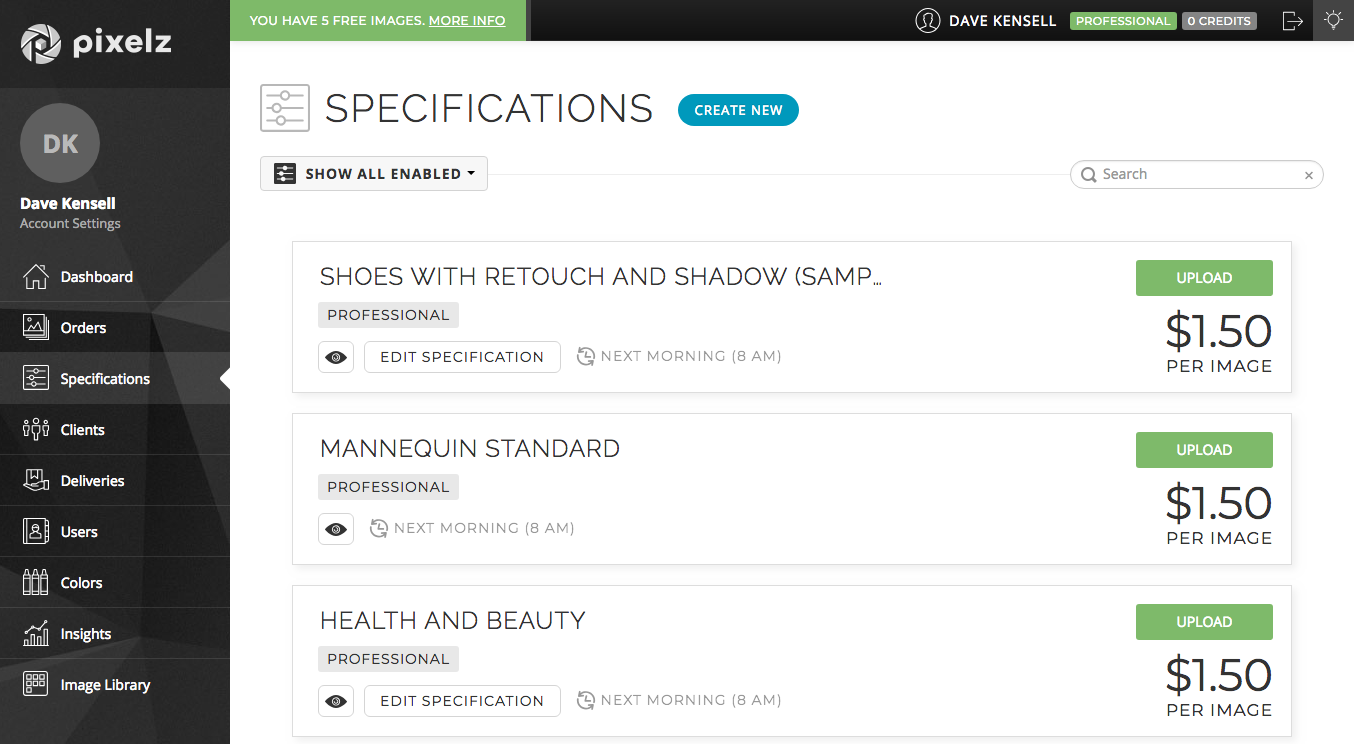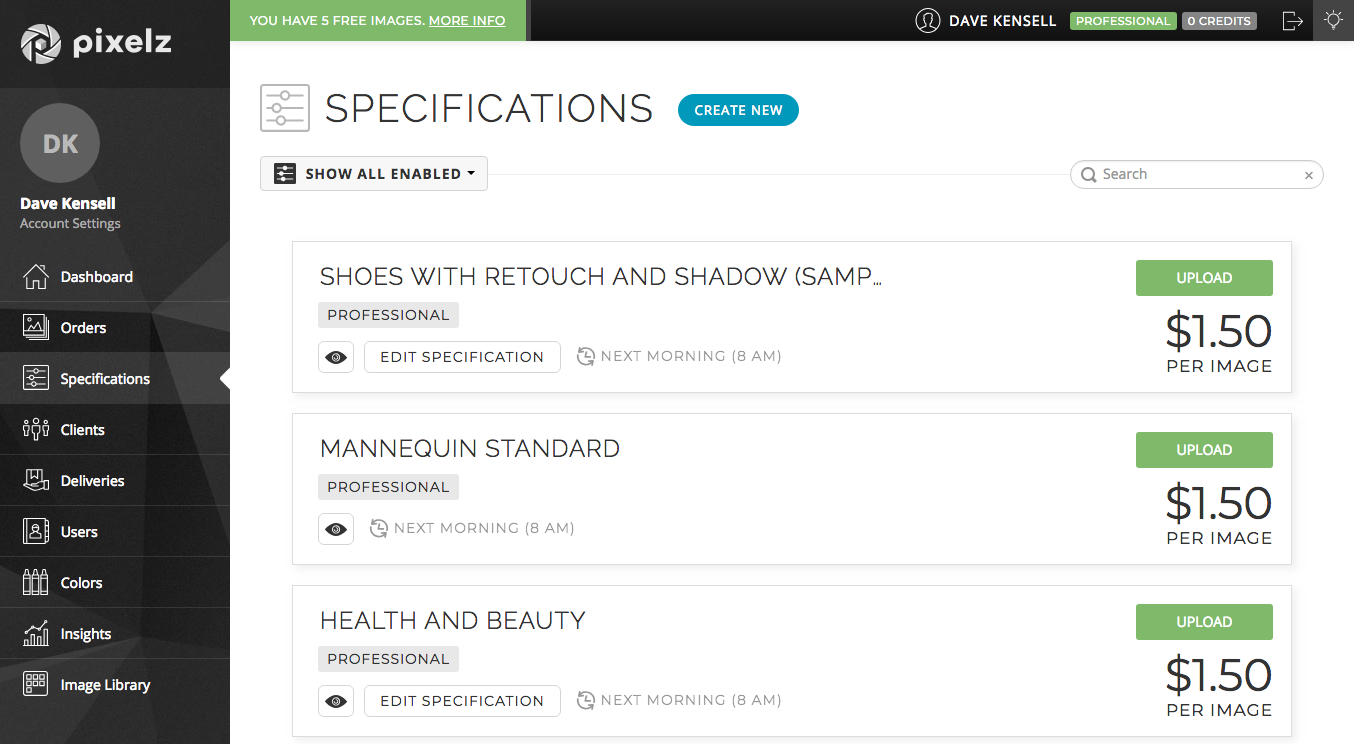 You're not on your own with specs. You don't already need to be an image editing expert. We have an "Onboarding" wizard that will walk you through creating a spec.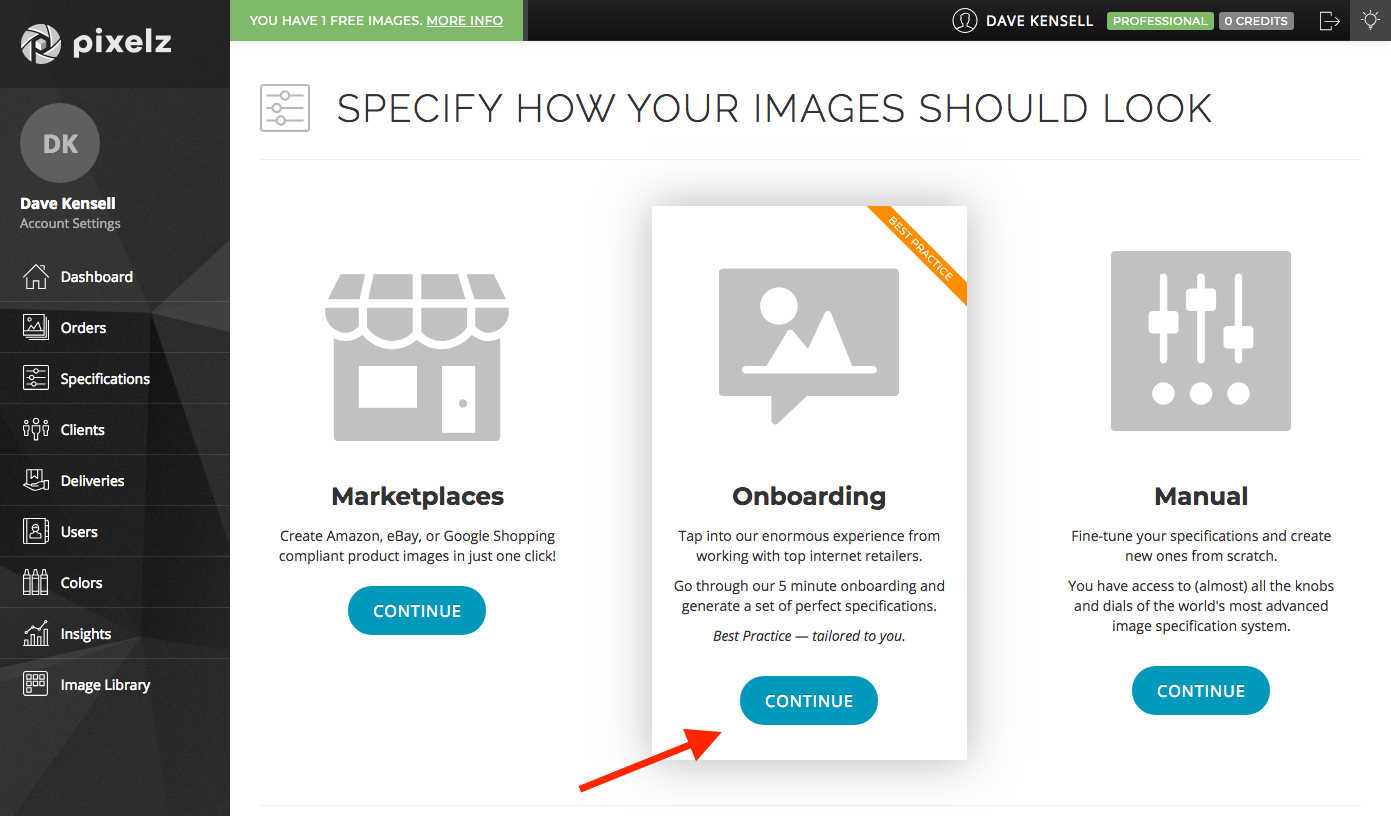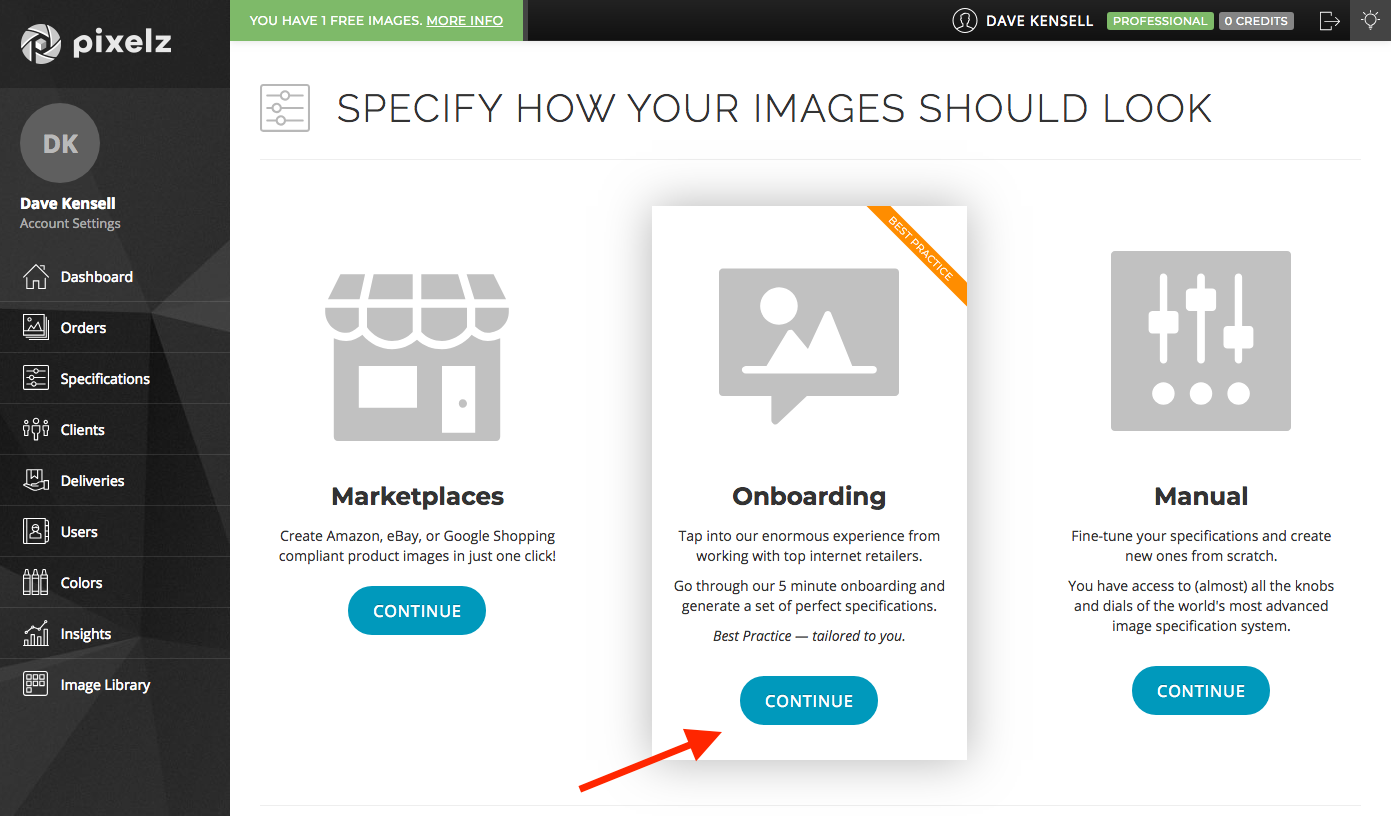 There are other options, like one-click creation for popular marketplaces like Amazon, eBay, and Rakuten, but onboarding is generally the best way if you're creating images for your own website.
Onboarding will give you category specific illustrated examples, sometimes including before and after photos, of exactly what retouching settings do.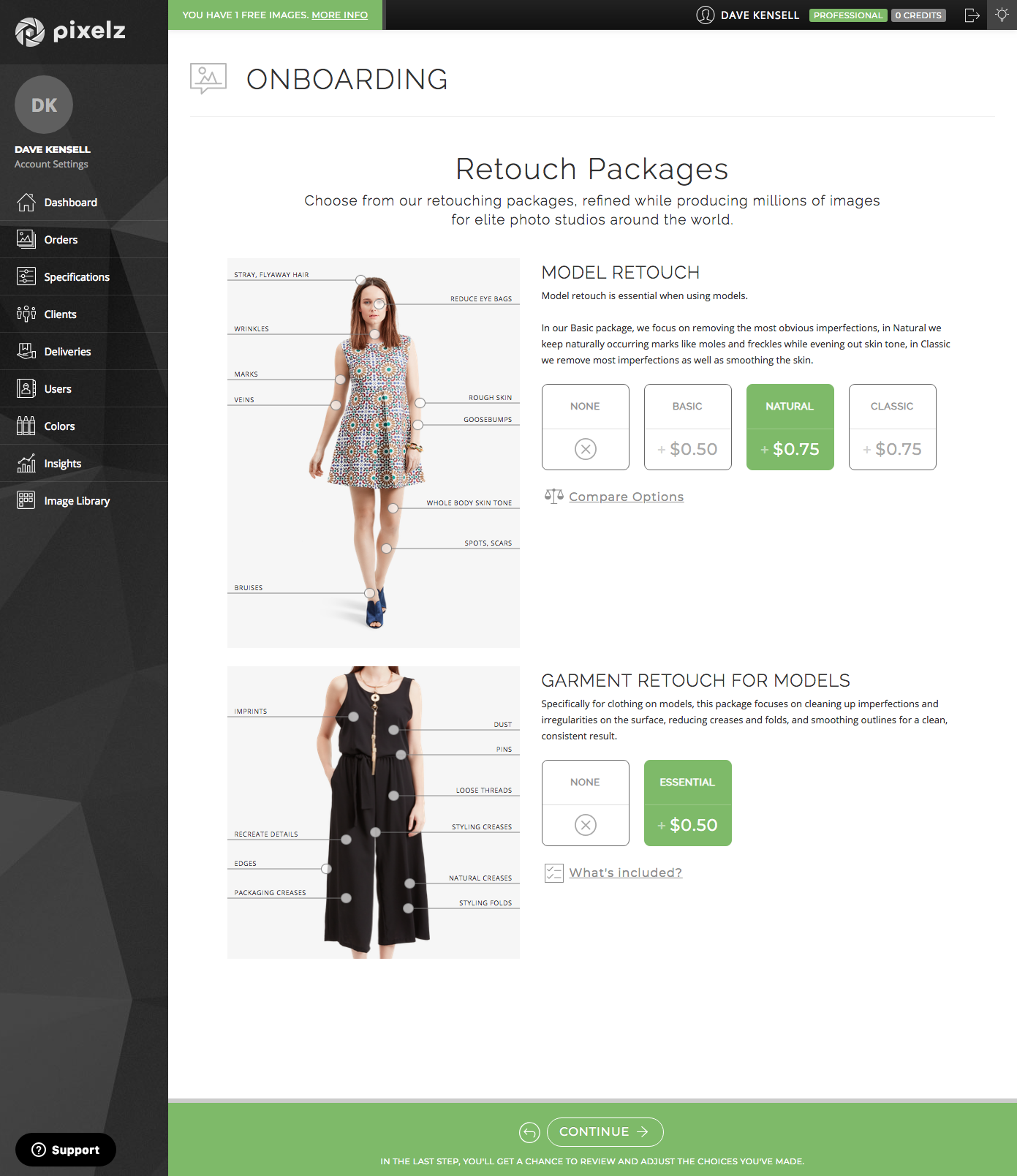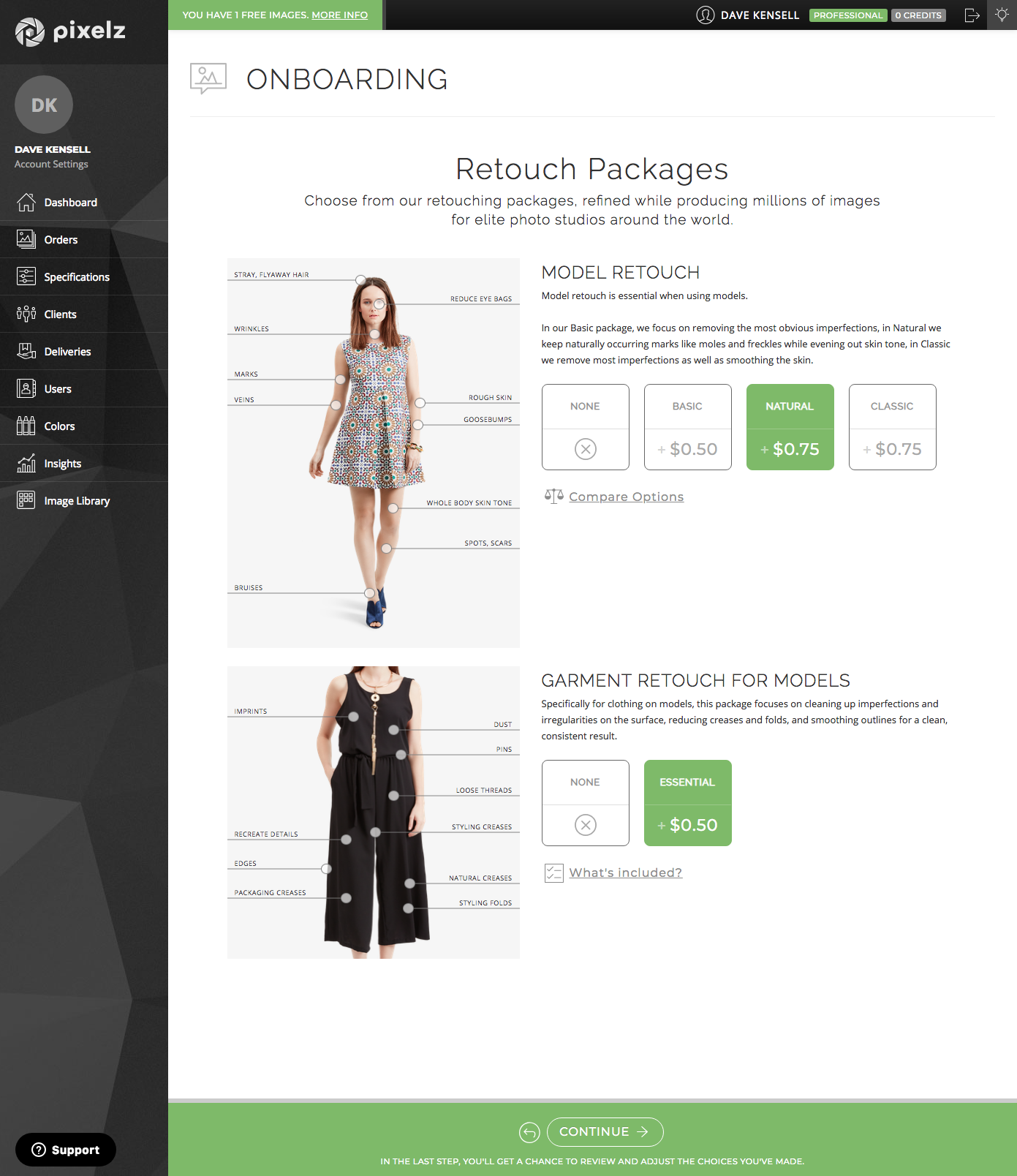 While you could use our default specs to edit your images, you really should create your own to experience the full benefits of the platform. Onboarding makes it easy!
2. Edit a Spec
Okay, okay, you just created one. Why do you need to edit it?
You don't. But it's good to click into edit mode, just to see how your onboarding was translated into line-items for our editing system. You may see simple ways to quickly customize your specifications even more, and it lets you fine tune image editing without going all the way through onboarding again.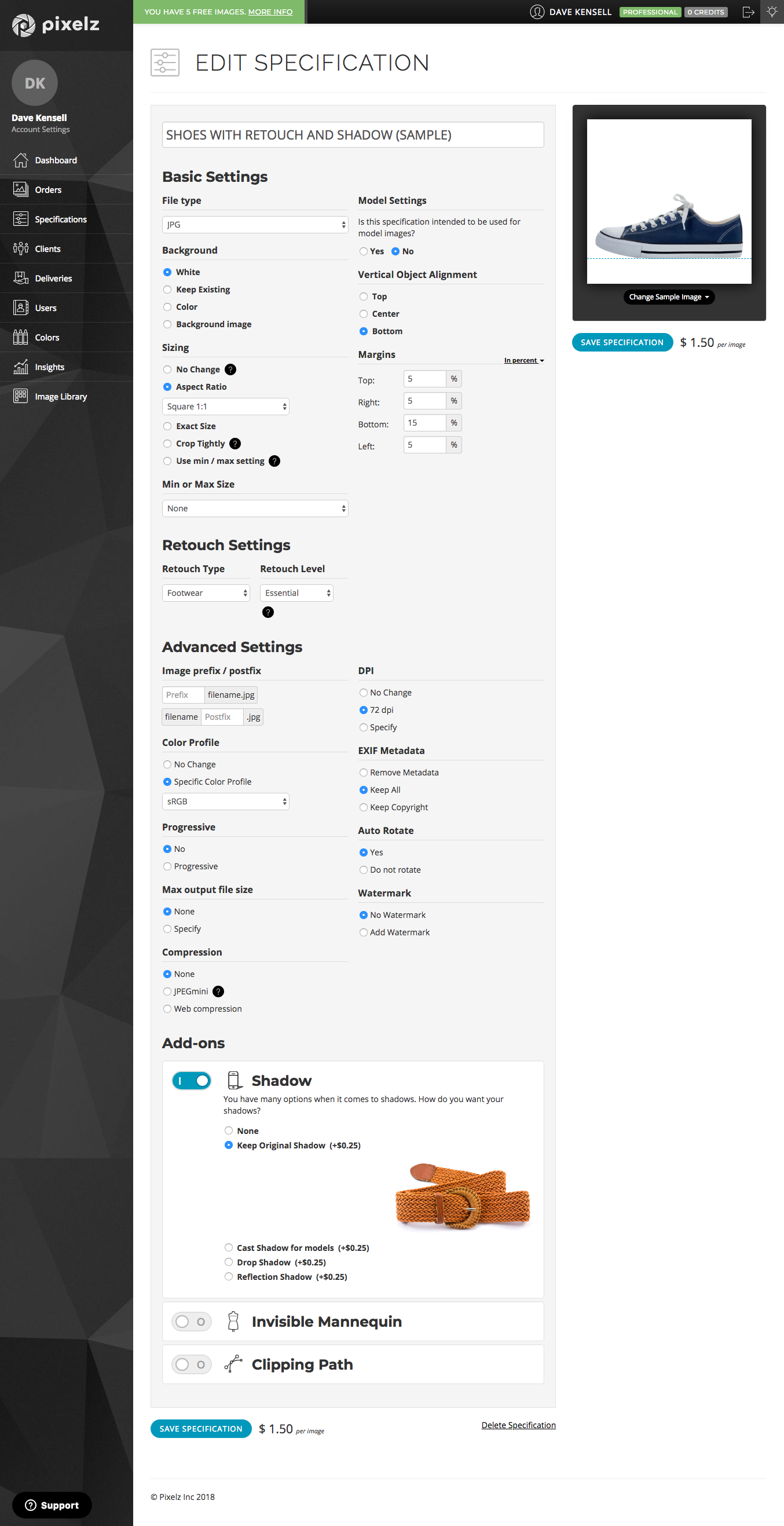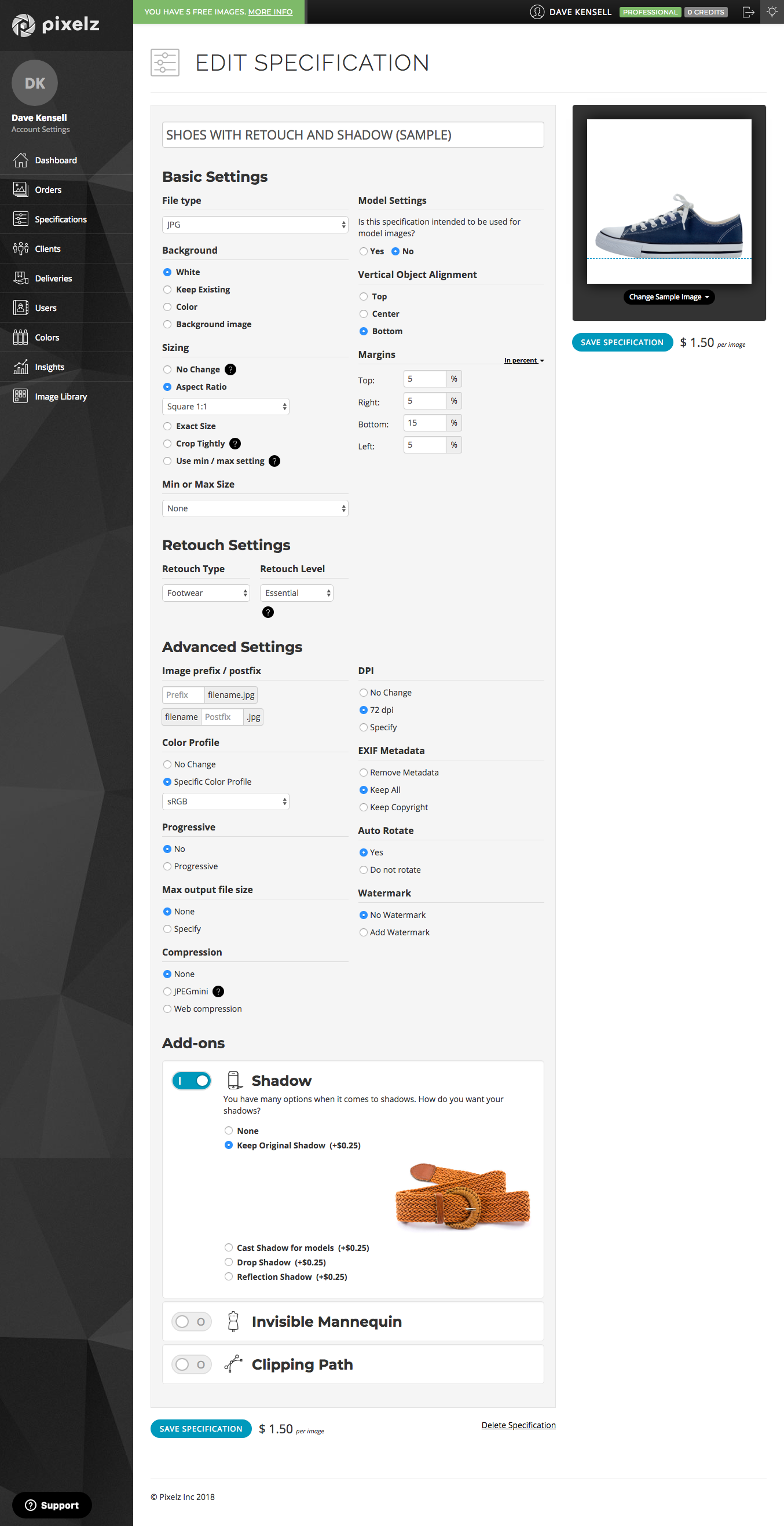 To get there, click the "Edit Specification" button on the spec's card in the "Specifications" area.
BTW—if you prefer this view of specs, you can skip straight to it next time you're creating specs by using the "Manual" option in "Create Specifications."
3. Add Instructions to an Order
You've got 10 free image edits. Use them!
That means placing an order. Select one of the specs you just made and/or edited, and then upload your images.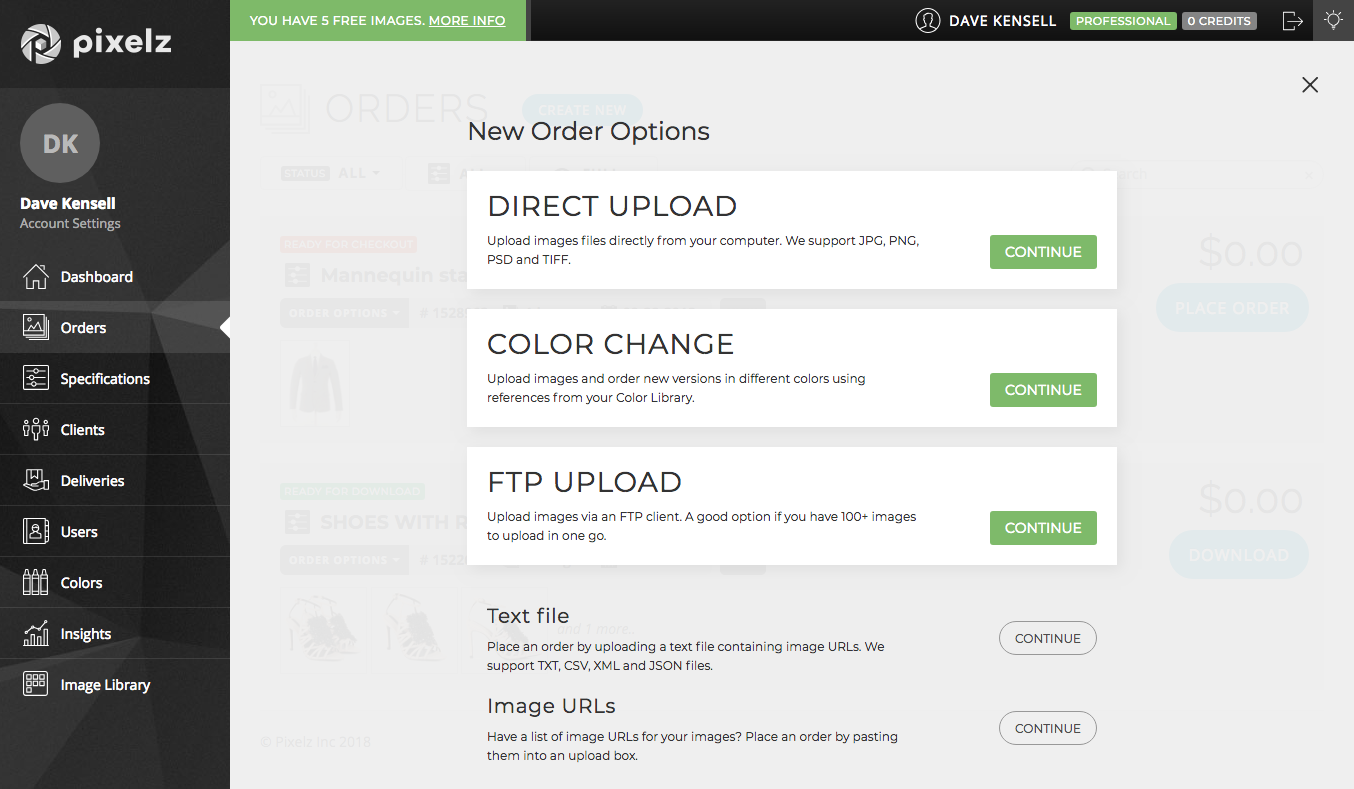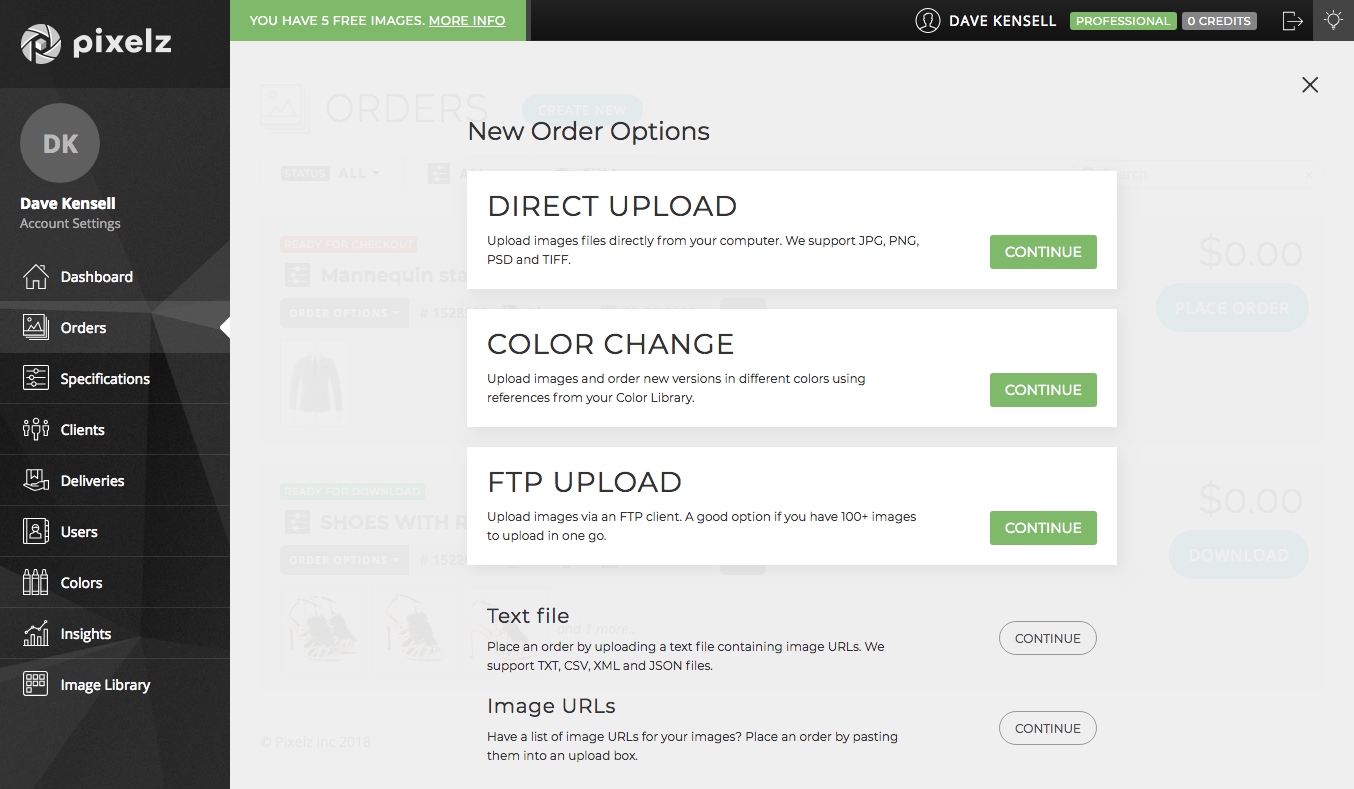 But what if there's something about an image that could use clarification? Something a little bit outside of your specs, or that's special about this particular image?
That's where "Instructions" come in.
Before placing an order, but after uploading images, press the "Order Options" dropdown to access an action menu. Alongside useful options like "Expedite Order," "Change Specification," and "Add Images," you'll see the "Add Instructions" option.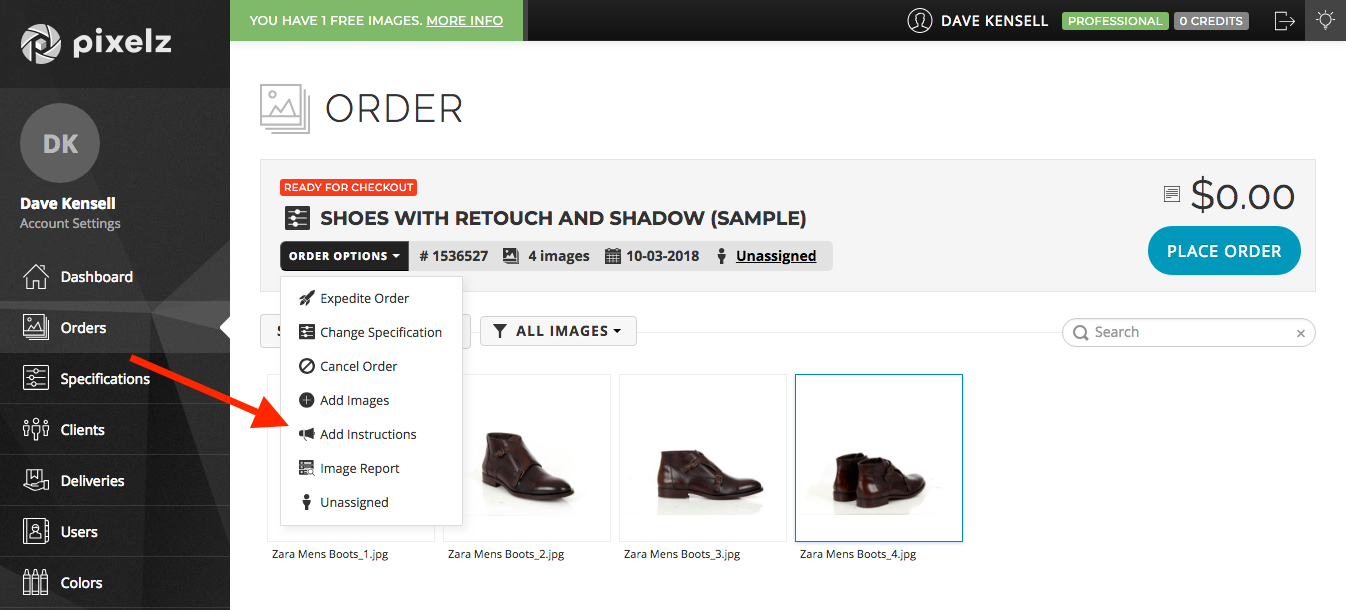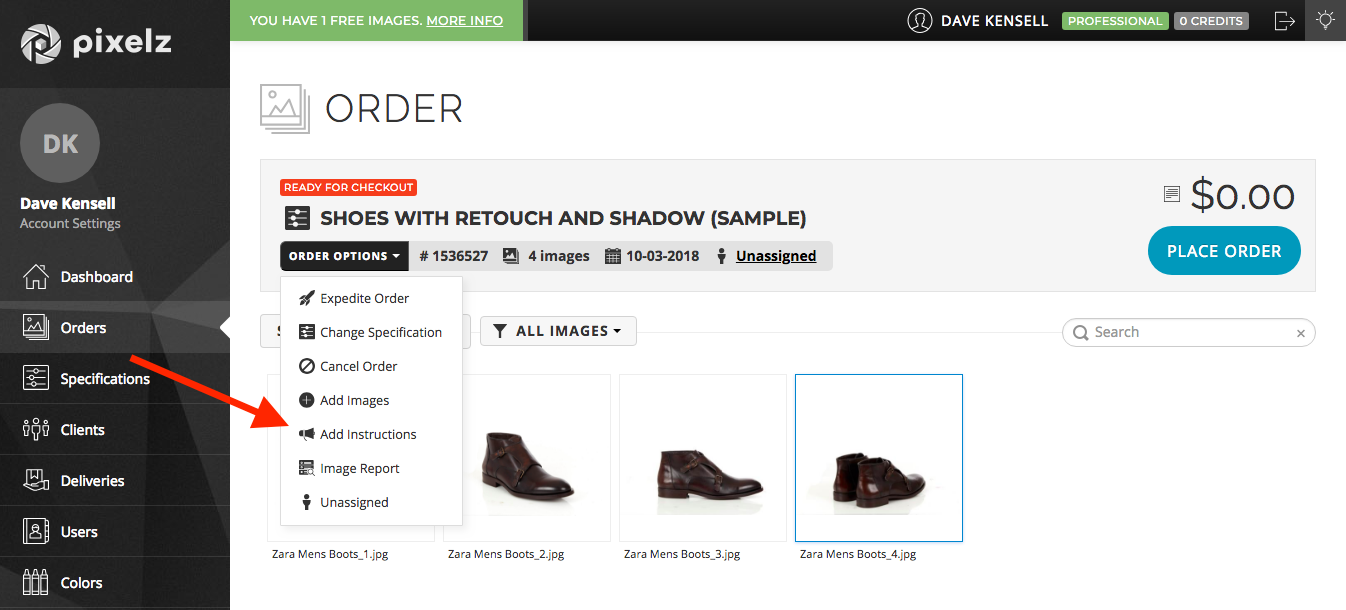 You can choose from an array of options to describe what additional actions need to be taken on an image, for example, "Remove Reflections from Boots." We use predefined options rather than a free form comment field to ensure instructions aren't lost in translation.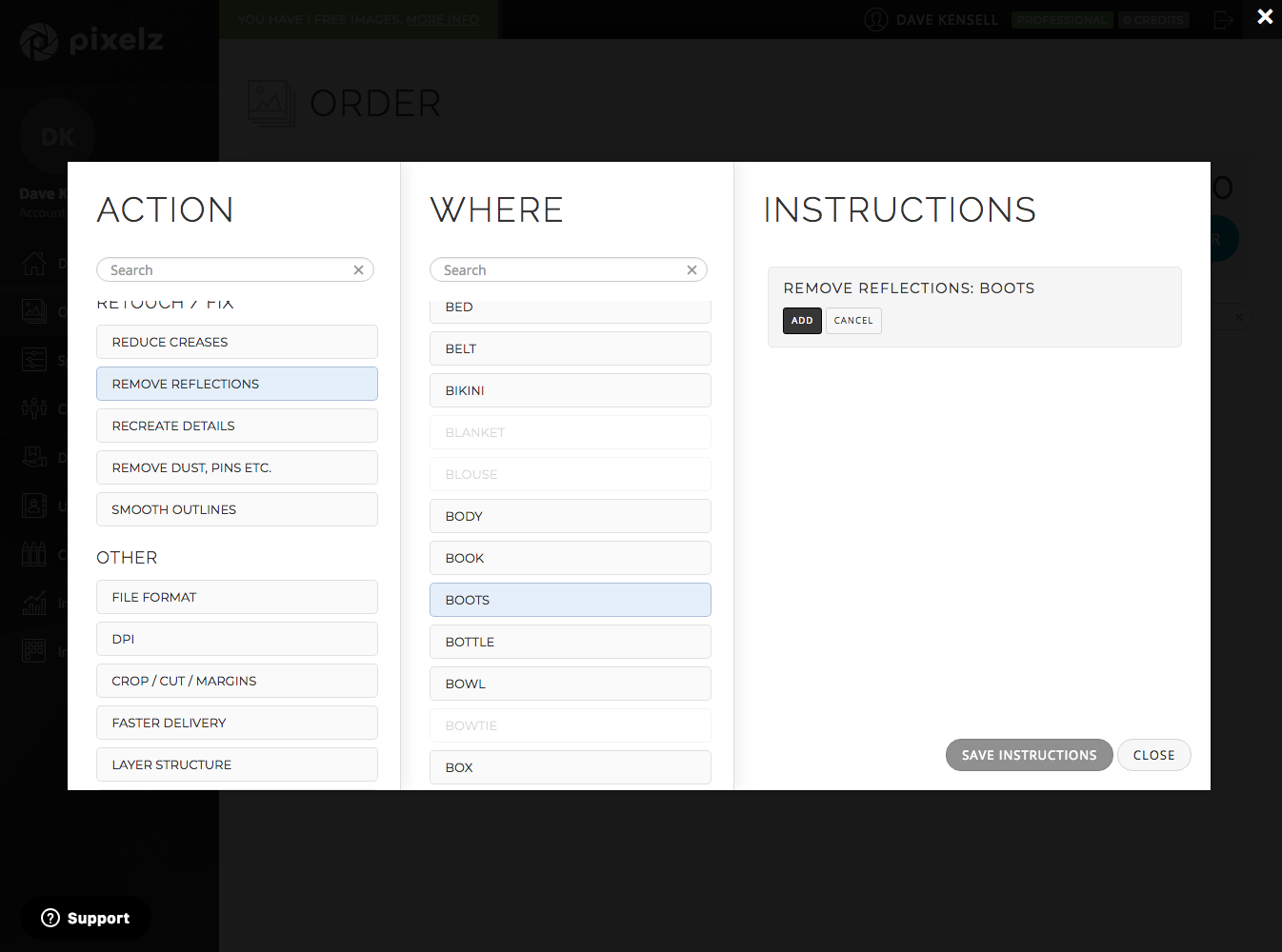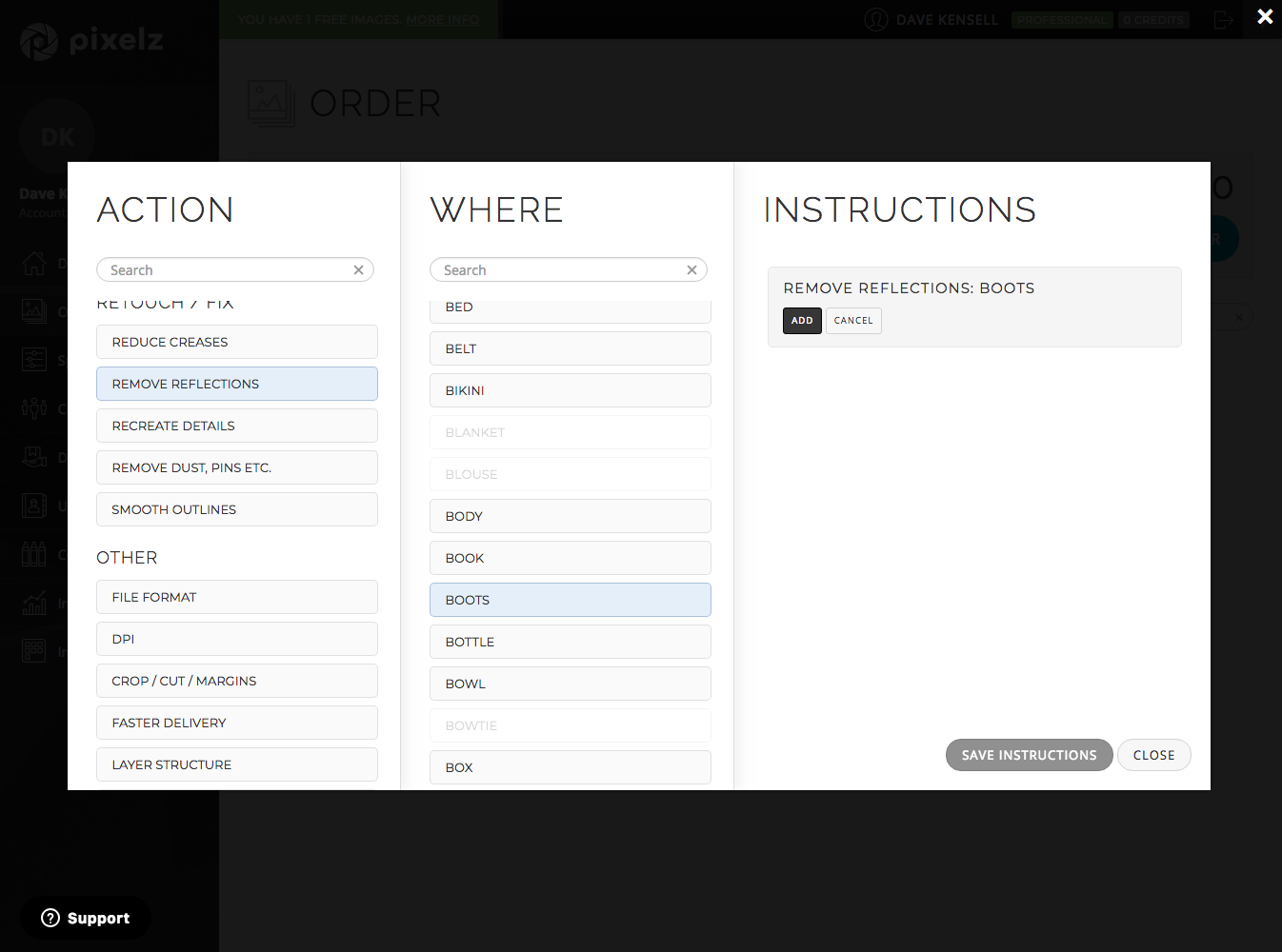 But what if you really do need to add instructions that aren't on the list? That brings us to the next thing you have to try…
4. Markup an Image
Just draw on the image! If a picture's worth a thousand words, how much is drawing on a picture worth?
"Markup" lets you communicate visually. If you have unique challenges that aren't covered in your Specs or Instructions, you can add them with our color coded drawing and commenting tool.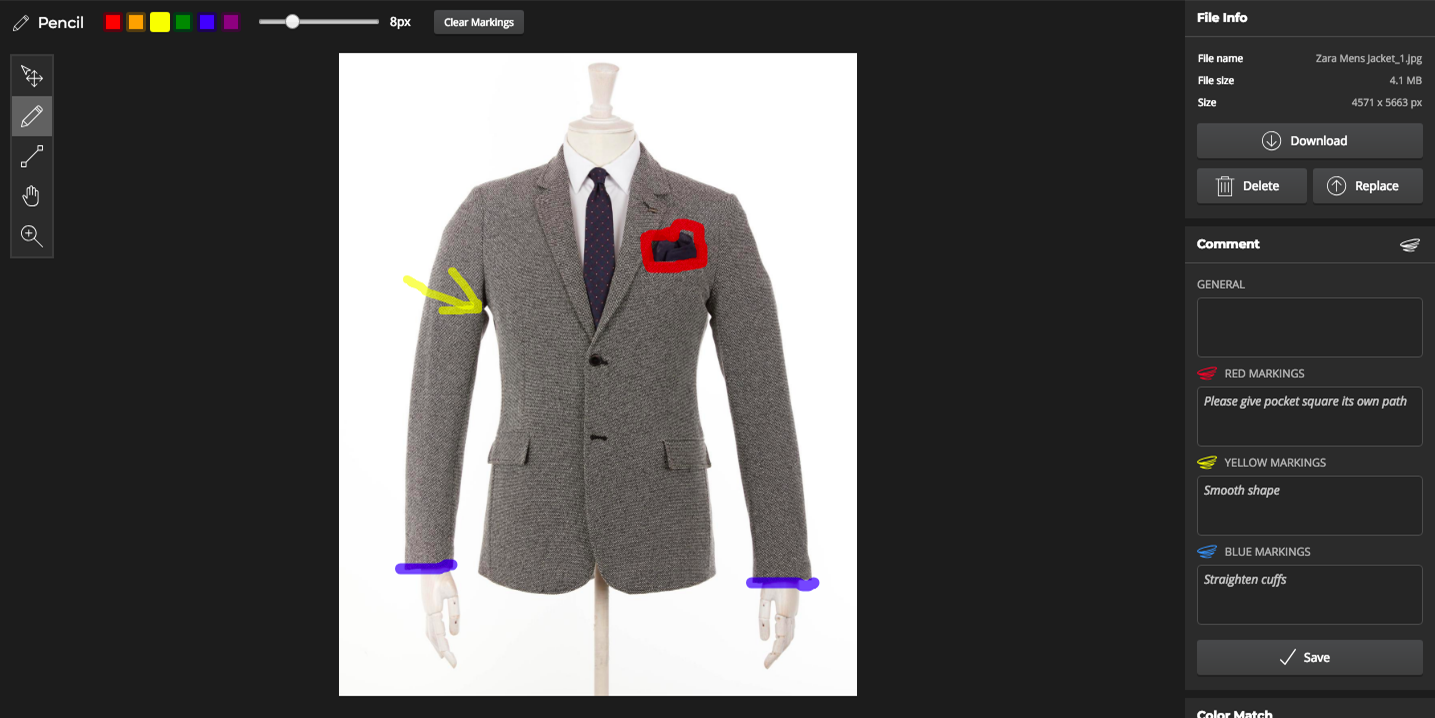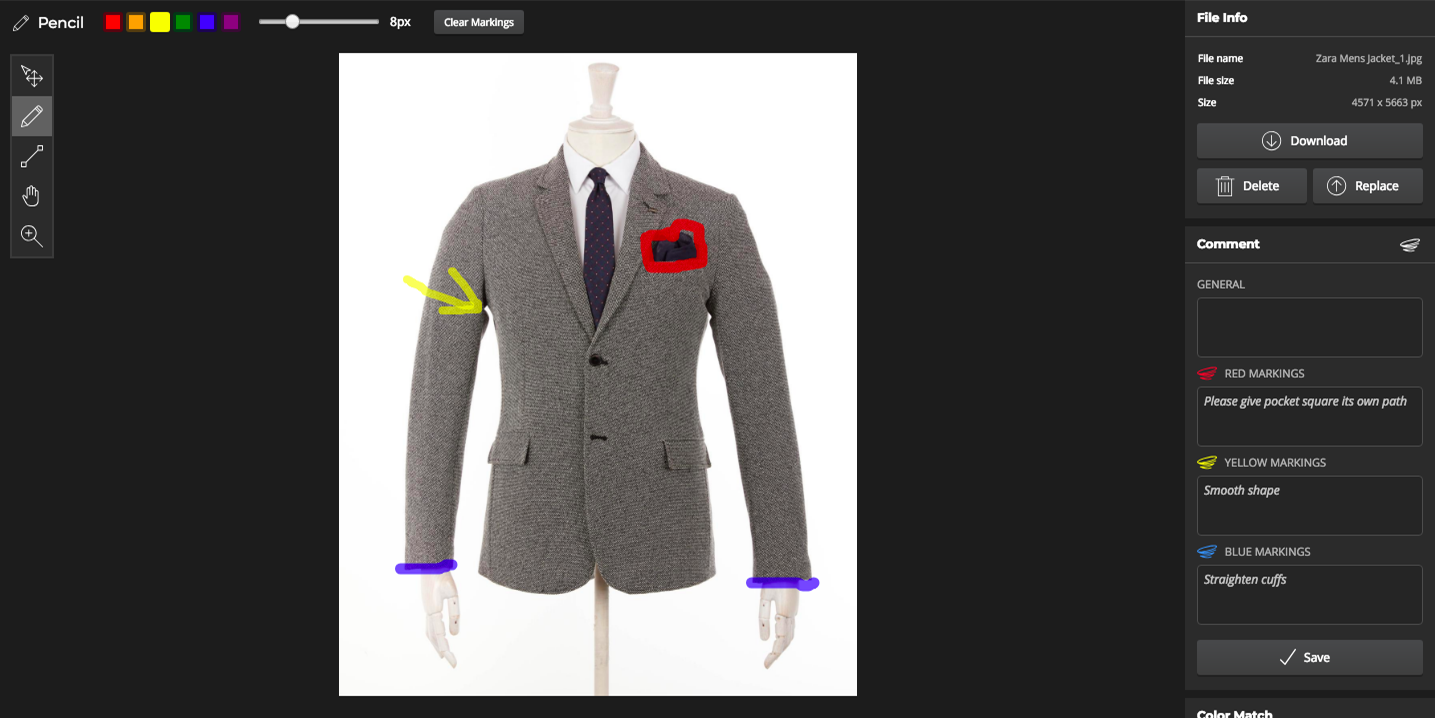 Read this blog post to learn more about Markup and how to try it during your free trial.
Once you have Markup activated, you can access it by right-clicking an image; or by selecting it and pressing spacebar, then pressing the "+ Add" Comment button.
5. Watch a Tutorial Video
As I said earlier, and as you're beginning to see, Pixelz Professional really is a feature-rich retouching platform. If you want to take a deep dive, watching the video tutorials in the Learning Center is a great place to launch from.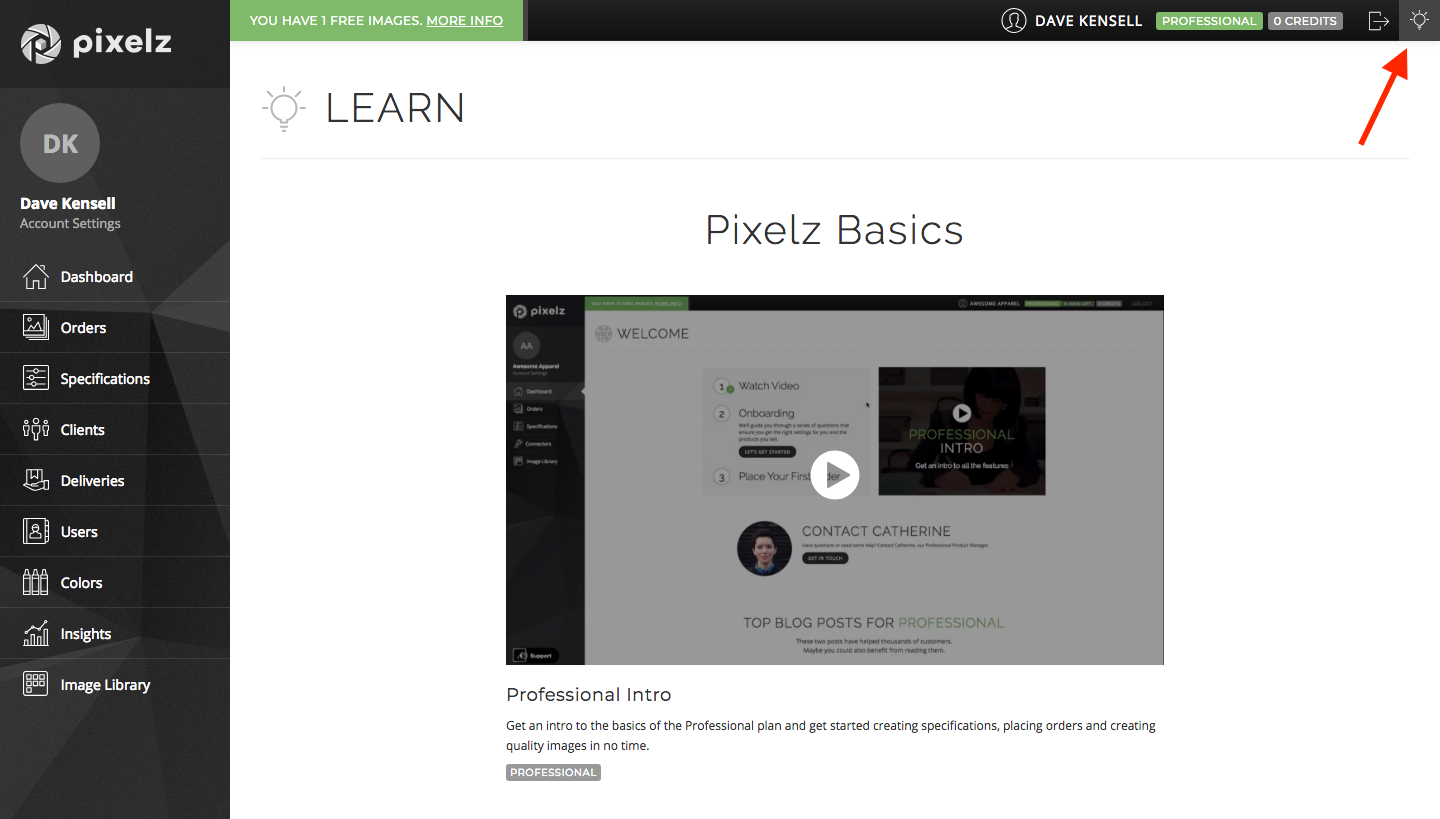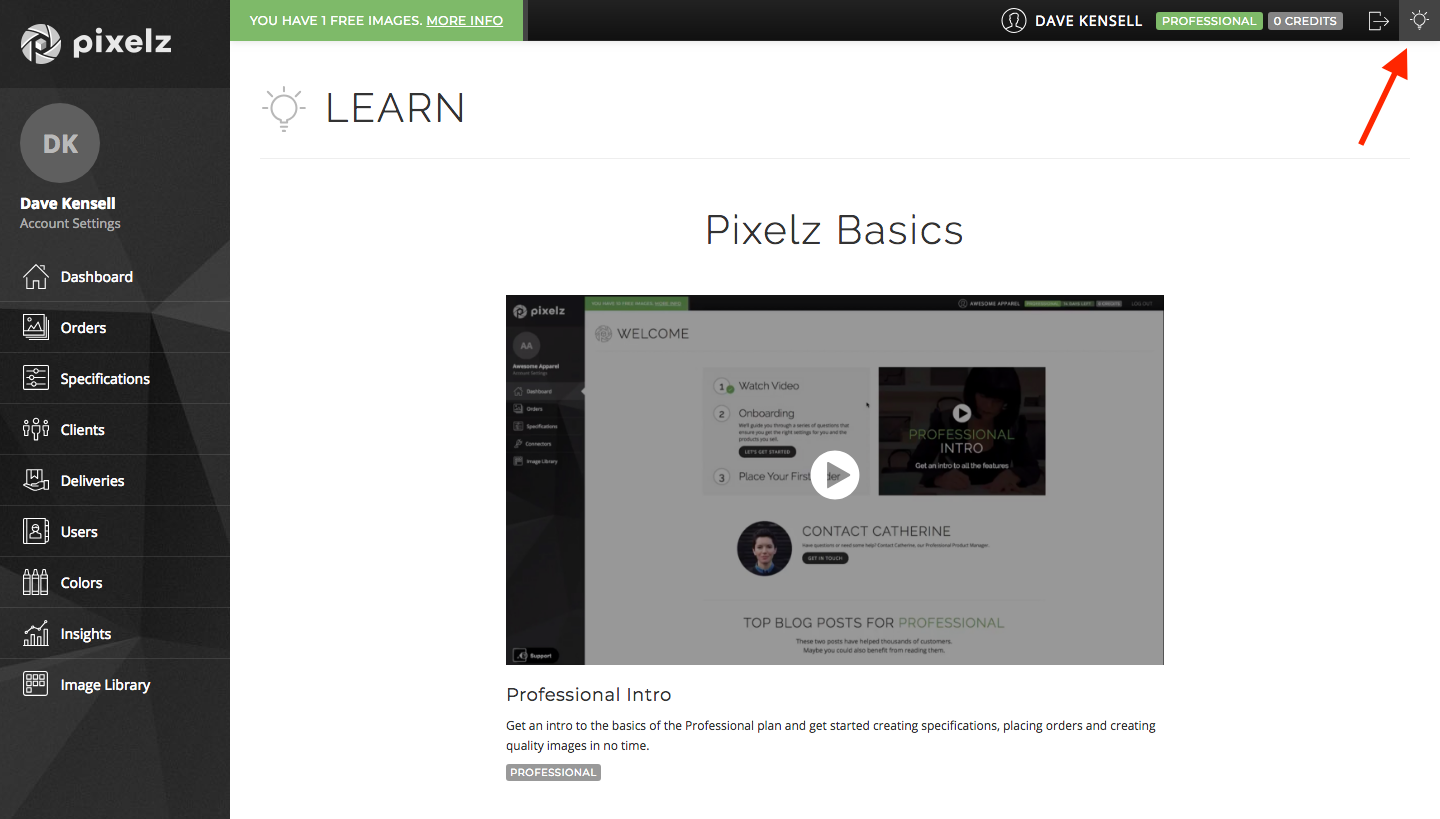 Watching a tutorial on a somewhat hidden but extremely useful feature like Color Matching, for example, is 4 minutes well spent.
At the time of this writing, there's well over an hour and a half of tutorial video available on over a dozen topics.
6. Speak to a Customer Success Rep
Sometimes, it's just easier to ask questions of a live person and get a little handholding as you navigate a new platform. You don't have to call in to a support line and work your way through a phone tree, only to sit on hold forever—you can write in to "retailer at pixelz dot com" to schedule a convenient time for a Pixelz rep to call you. Our international nature gives us almost around the clock coverage during the business week. We'll be happy to answer questions about the service and get you started on the right foot.
During your free trial, we have experts ready and willing to review your site and make retouching recommendations. They'll even help you get your initial specs created, if you so desire.
7. QA an Edited Image
After your images are edited, you can compare Before/After images in your browser and use the Markup interface to clarify any additional retouching needs.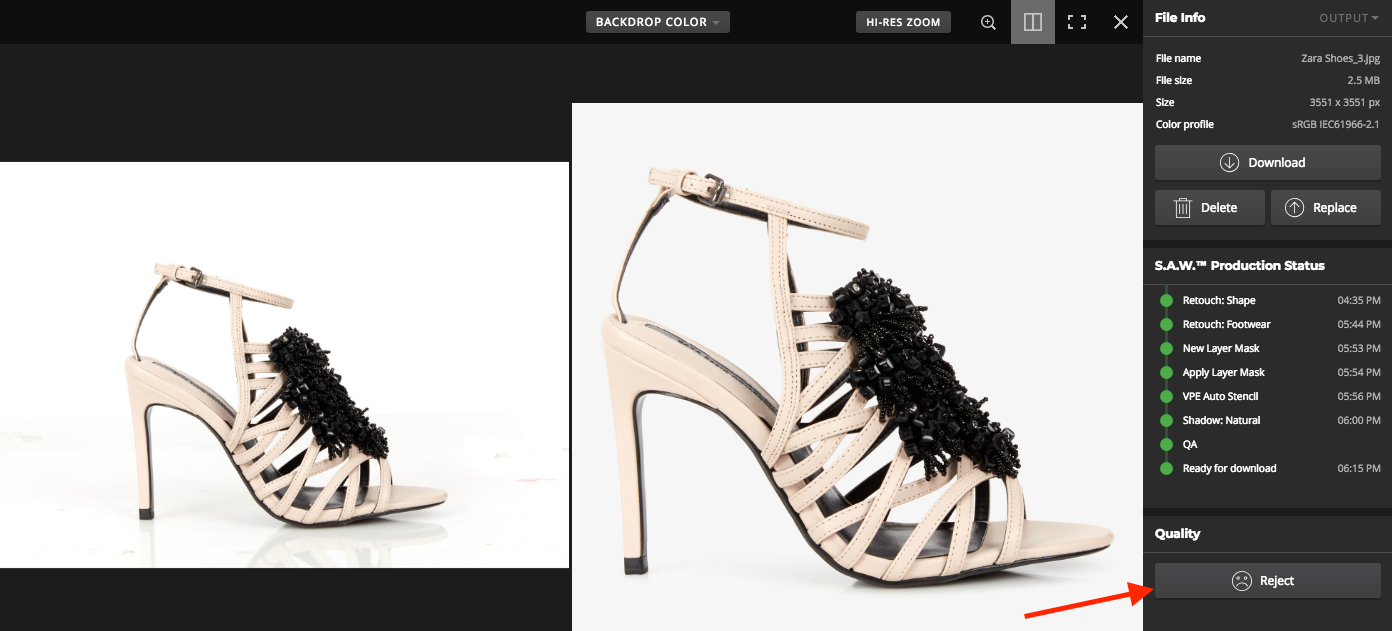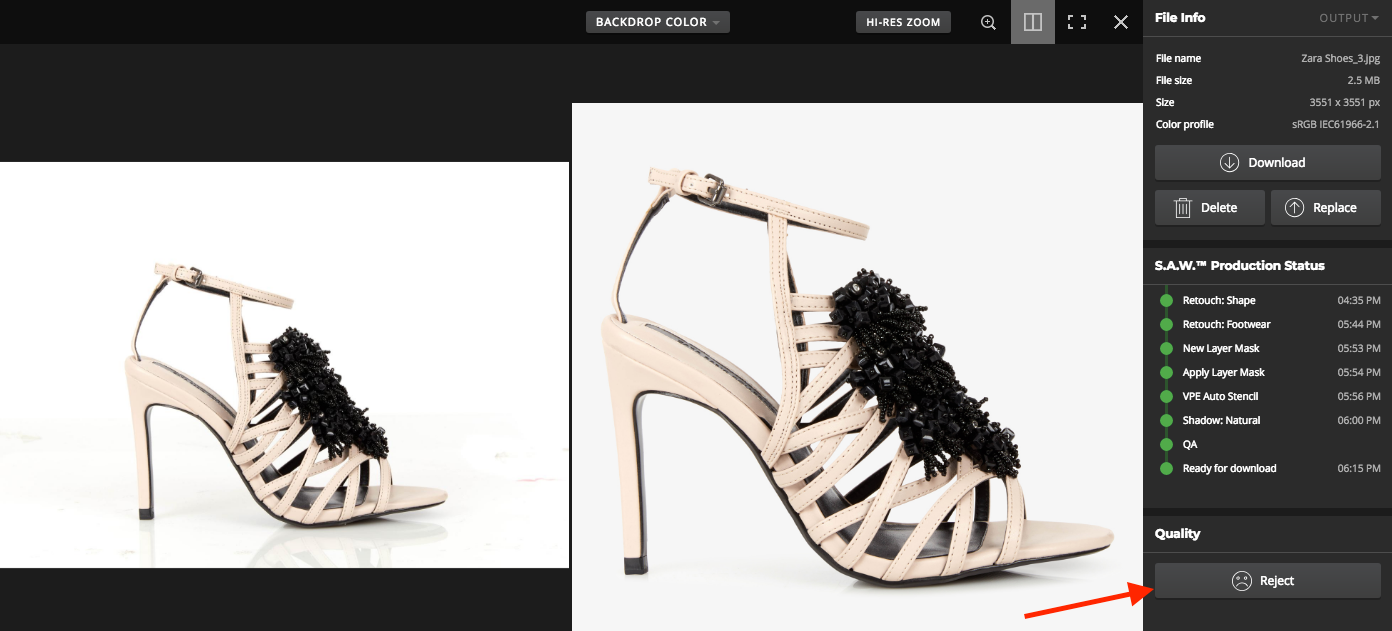 You can QA using the "Before / After View" option from the "Order Options" dropdown when reviewing an order, or access the Markup interface (whether or not you've signed up for pre-production Markup) by hitting spacebar on an image.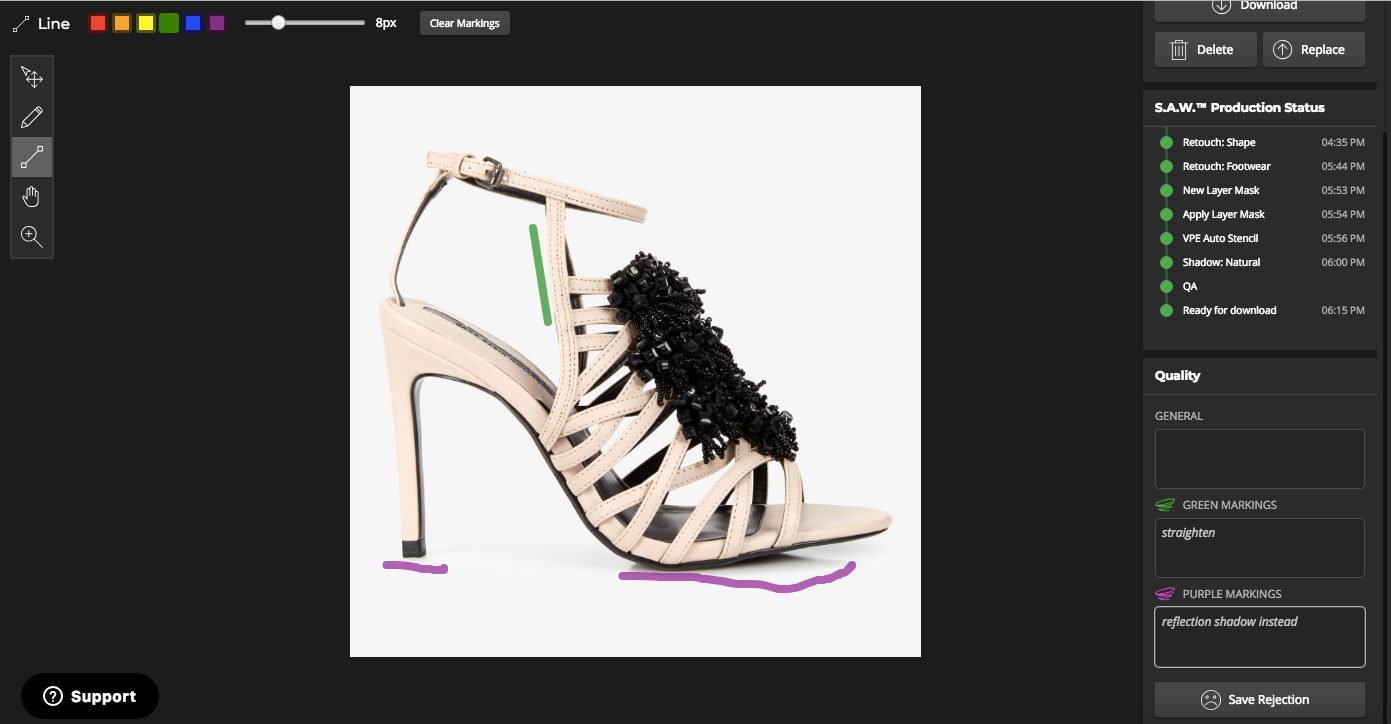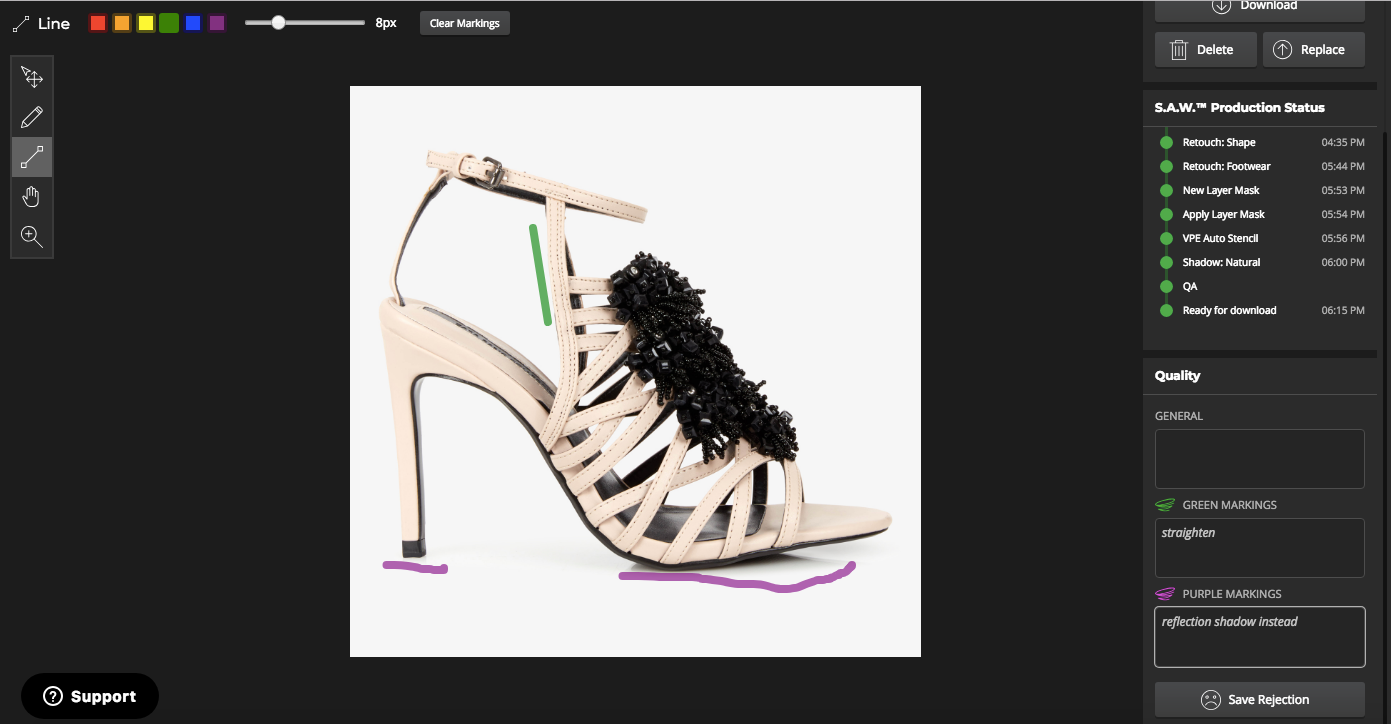 If you do reject an image due to an editing mistake, a corrected version will be returned in five hours or less, free of charge.
8. Check out the Photoshop Log on an Edited Image
Curious who's been editing your images, and what exactly they did?
You can find out easily. A hidden feature of the interface contains all that info, down to the most granular level.


When you're reviewing a completed image in the Markup interface, you'll notice a box labeled "S.A.W.™ Production Status" that gives the steps an image went through, along with clock times.
Guess what? Click those clock times, and a new column will appear. At the top of the column is the photo, name, and location of the editor who performed that step. Beneath the editor is a record of the Photoshop tools and activity time from their work on your image.


That's the data we use to drive development forward in a lean manner. Pretty cool!
9. Refer a Friend for 100 Free Images
Enjoying your trial? Let someone else know about Pixelz, and you'll both get 100 free image edits!
It's a super simple process. Get your referral link, and then share it with people you know who have retouching needs.
If someone you invite subscribes to Professional, you'll both receive 100 free image credits! There's no limit to the number of referrals you can make, so if you really take advantage of this offer you can stay swimming in free images forever.
10. Get a 20% Discount with Annual Subscription
If you have ongoing image editing needs, did you know you can save $20 USD per month on your subscription by using our annual plan?


To activate an Annual subscription while you're on trial, first click the "X Days Left" small green notification banner at the top right of the screen when you're logged in.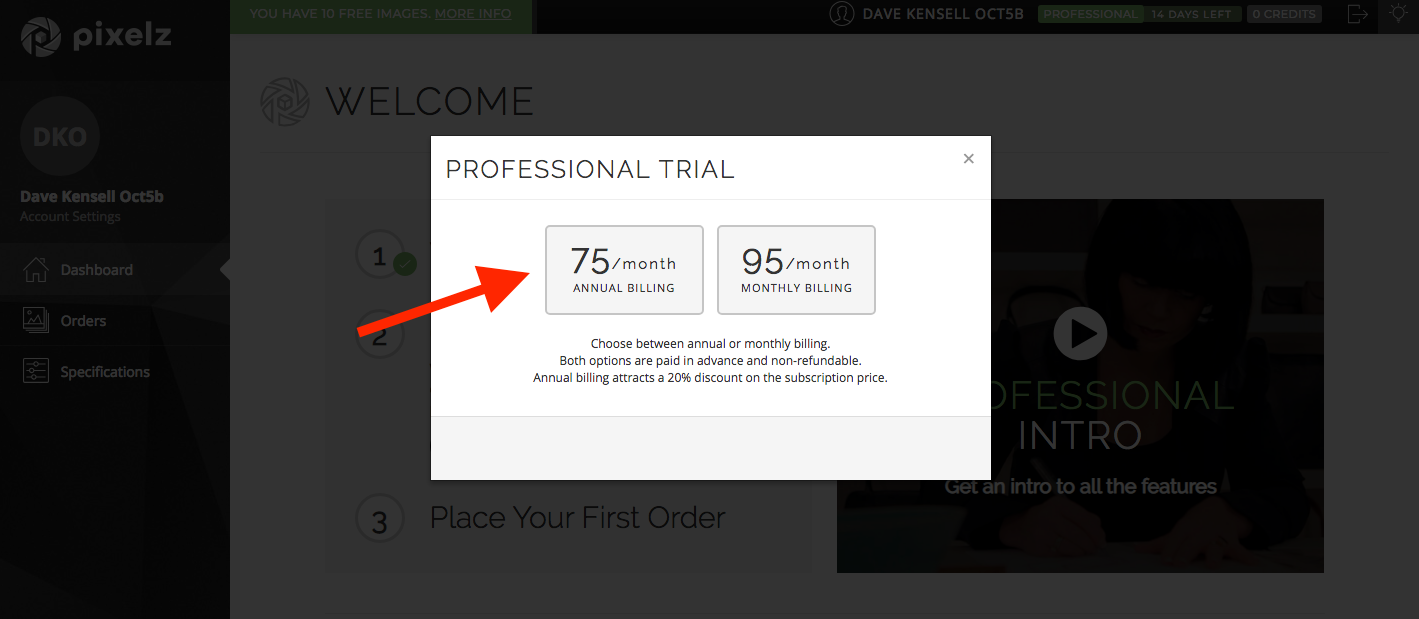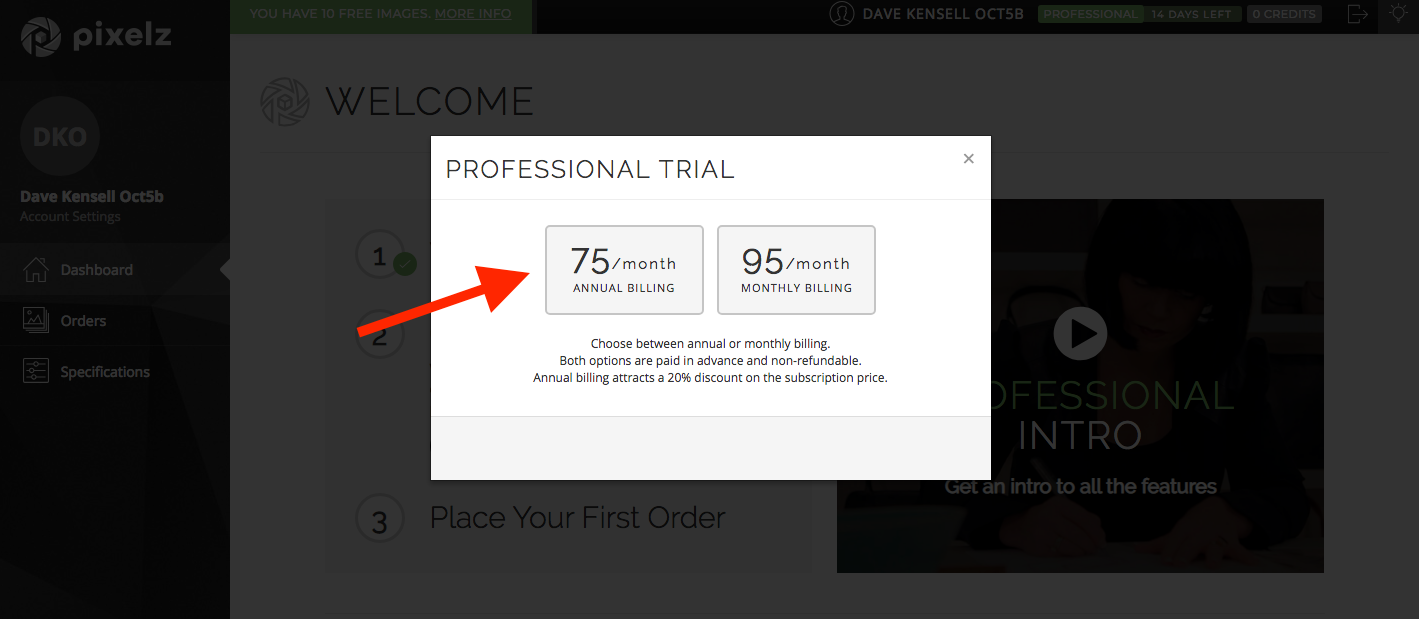 Select "Activate" from the modal that pops up. You'll then be given a choice between monthly and annual billing. If you select "Annual," you'll save $20 USD per month from your subscription! That's $240 on the year, which works out to a little over 21% savings compared to a monthly subscription.
The sooner you switch to Annual, the sooner you start realizing savings.
Not on your free trial yet?
Not a Pixelz member yet? Did you just read through that list thinking, "Hmmm, how do I get on a retouching platform like that?"
Sign up and start your 14 day free trial with 10 free image edits today!